[WARNING: This blog post contains minor spoilers regarding the D&D Next module The Mines of Madness. It describes the first portions of a playtest of the module before its release.  Do not proceed if you do not wish some minor spoilers]
A few weeks ago I got to go to Wizards of the Coast (WotC) for a very specific reason. To get eaten by a 15 foot wide poop worm in an outhouse.
Wait, wait.  I'm getting ahead of myself.
Scott Kurtz called me a few weeks ago to follow up an an email that Greg, Producer of Dungeons and Dragons at WotC had sent me. Would I like to participate in a recorded play through of the D&D Next (think next edition rule set) module Mines of Madness, written by Scott and Chris Perkins. It would be me, Scott, my friends Kris Straub and Molly Lewis, with Greg being our DM and Chris as a…well I can't say any more about that at the moment.
I got my red box illicitly at the age of 12.  I was raised southern baptist and my family was firmly in the realm that Dungeons and Dragons taught children to love Satan, support marriage equality, think women deserve equal pay for equal work, and basically believe that the default position of humans should be to treat them well while not trying to threaten them with eternal damnation. The first part was the only fallacy.
This is all Tom Hanks fault.
As an aside there's no saving throw against a 15 foot wide poop worm if you poke your head down the outhouse hole.
ANYWAY.
My friend Antonio bought the set, dice, and associated modules for us. I rolled wizard class generally, and D&D was a part of my life for a long long time.
When Scott called me, I had not played a formal game in ten years. That wasn't due to any lack of love or "outgrowing" the game (I had played Neverwinter on PC and Delves of course) it was just that so many other games and real life had taken up my time.
But now I was being invited to play an unreleased module at Wizards of the Coast with my friends and record it for the Internet.
I picked up the phone and called 12 year old me.
"Dude." I said.
"DUDE!" 12 year old me replied.
"Dude." I agreed.
"DUDE!" 12 year old me argued.
"I gotta do this right?  I mean I would be an idiot not to do this right?" I asked.
12 year old me farted into the phone in agreement.
When I got there the D&D folks were happy to meet *me*. We all got a nice little setup with dice and a moleskin notebook.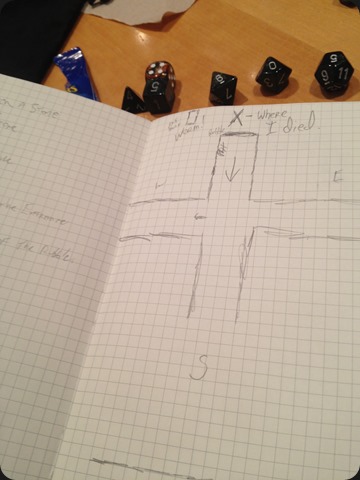 I DIED BEFORE WE EVEN GOT INTO THE MINE! (Poopworm)
EDIT: Yes I know I'm drawing big here.  I tend to draw twice, a close-up of the immediate room then a smaller version aligning to the individual squares. Good lord nerds.
If this sounds amazing (and even writing it is making me freak out at the things I sometimes get to do in my life) then you should listen to the fact that we recorded the whole thing.  We played for 4 or 5 hours, and they will be releasing the podcasts throughout the month of April.
I can't thank my friends Scott and Kris and Molly and Greg enough for the opportunity.
The subsequent episodes will post 4/5, 4/12, 4/19 and the 5th and final one, 4/26. (note, subject to change based on editing or other things etc etc)
The Mines of Madness module is available TODAY to all D&D Next Playtesters, you can signup here: http://www.wizards.com/dnd/DnDNext.aspx