Working in the consumer electronics hardware business has been a massive education.  I now know what it takes to drive a manufacturing line in China from creating the steel tooling to combining molded plastic within test tolerances to internal components like printed circuit boards, to packaging, to international electronics testing compliance to putting everything on a boat and getting it here on time.
If you ever get the chance to be a product manager for a consumer electronics device take it.  It's a massive education and fun to boot.
But you have to work China hours, which can be tough.  As I write this, I'm nearing considering going to bed, but their day is reaching the early afternoon of *tomorrow*.
I'm saving up for a Tesla S. So for now we're down to one car.  As I do writing and consulting and working on awesome stuff for GAEMS, Rochelle is pursuing her dream job of seeing clients. We're down to one car, which makes juggling those schedules tough.
I know, #firstworldproblems.
We live out in Duvall, a farming community roughly 14 miles from Redmond and 24 or so miles from Seattle proper.  As I have stated many times, I love it here.  I can see the milky way at night.  It's quiet. My dog's think it's heaven.
Just down the street from our house is a Seattle Metro bus stop. I always made fun of it.
"How inefficient a public transport system does this place have that it can't do light rail anywhere where traffic causes 45 minute delays within 2 mile stretches but it has a metro bus stop way out here in Smallville?" I used to joke.
I've never taken a bus more than a mile in my entire life.  Dallas, where I grew up, has a terrible public transit system.  So my use of busses and subways has been in heavily urban downtown areas like Boston or New York, where if you are visiting you typically don't have to go too far.
Rochelle was going to be with a client today for far longer than I was willing to wait for her to pick me up. I remembered that right outside our office is a bus stop.  I queried the Seattle metro site and discovered I could, with one simple transfer, get from work to the bus stop near my house for $2.50 and about a hour's worth of my time.  Oh and the bus has Wi-Fi.
I had my iPad, mainly so I could read Jeffrey Toobin's outstanding new book on the Supreme Court, The Oath. But as I rode to the transit center I found myself simply staring out the window at the things I never get to really look at on my commute. Near the horse pasture off Novelty Hill there was a deer. The house that sat off the tiny lake that so spectacularly frozen during winter ice storms had finally sold. The work on the roundabout at a critical traffic choke point was nearly complete.
The bus rolled down Redmond Ridge into the Snoqualmie river valley. I looked out the window over the private dog park we take the dogs to in the lower end by the river. I could see someone playing with their dogs near the beach on the close side.
It was late afternoon/early evening.  The Seattle Golden hour in October starts around 5:30 and I was getting all the benefit of it. The treetops were lit with orange yellow sunlight and I just sat there in my bus seat alone, drinking in views I have to enjoy in passing as I concentrate on being a pilot not a passenger.
The bus stop near my home three quarters of the way up steep part of the ridge we live atop.  It's about two thirds of a mile from my house. Coming up the ridge I was momentarily terrified.  I didn't know how to stop the bus!  Most bus systems I had been on in downtown areas had "Stop" buttons everywhere.  This bus only had those cables over the windows.  I envisioned the entire bus slamming to a halt if I pulled one, like a subway in a TV show or movie.  I quickly confirmed via Google it was fine to pull them, that's how you let the driver know your stop.
It was crisp and sunny and clear as I stepped out of the bus. The golden hour was still in effect, and the trees were glorious. I stopped to snap them just by the bus stop.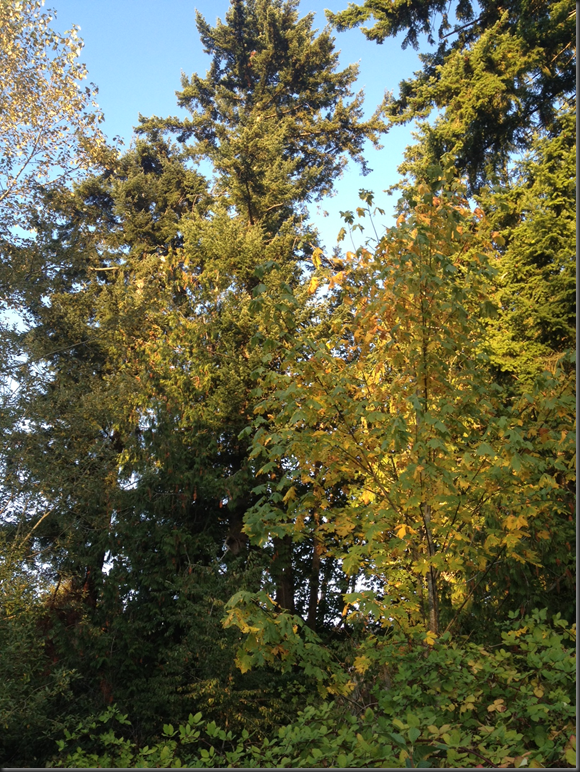 I walked up the ridge at a leisurely pace, stopping every once and a while to pick fresh ripe blackberries from the bushes that cover the landscape where I live. The air was cool and clear, so the climb up the rest of the ridge was incredibly pleasant.
I reached home, said hello to the dogs and let them out.  I stood out in the back yard that borders a native growth area and watched them sniff and play and go about their bathroom business.
All felt very much right with the world.  I felt deeply there was a lot of experiential opportunities around me that I was missing in the shorthand of my life. It was there, I could see it, perhaps my imagination could fill a lot of it in.  But there was no substitute for actually seeing the Red Wheel Barrow in person, if you could.
So much does depend upon that. I resolve to take the bus more often.