Dead pet posts suck. Think of this one more as a celebration of a life well lived.
I was walking in the Snoqualmie river valley, by myself with Buddy. The day was a bit dreary, overcast but at least it wasn't raining. Buddy was wearing his "Help 'em up!" harness which he actually looked quite high tech in. It would be one of the last times we would actually need the harness for a long while, because he had completely recovered from the stroke that had paralyzed his entire left side two months prior. He was just shy of twelve years old.
The park we visit is a private one called Camp Charlie, and besides Port Townsend is Buddy's favorite place on earth. It was just me and him, the exercise part of his recovery regimen. In the distance was another dog owner, a man walking with a cane. If Buddy ever saw another person, he had to go investigate and say hello, and to my surprise given his recent problems that day was no different. His gait had changed somewhat after the stroke and although he could run fine, it was more a rocking horse type of motion than his normal full gallop. When I reached the man he was petting a happy Buddy and remarked on his yellow harness, saying he looked handsome in it.
"He had a stroke two months ago. His entire left side was paralyzed so we have the harness just in case while he recovers." I explained.
"You're kidding," the man said looking after Buddy romping away into the field with his own dog, "I would have never believed it."
That was Buddy. He was a rescue, from a family who simply had no idea what they were getting into when they brought him into their lives.
I was standing outside a steakhouse in Whistler when Rochelle called me from Dallas. She'd seen a flyer of a beautiful Golden Retriever at the laundry mat with the notation "Buddy needs a home." She took it off the wall. "I think he'd be great for your Mom and Ted!" I'll never know if, secretly, she really wanted him for us all along. At the time we had a cocker mix named Illusion, a cat named Isabeau, and our first dog together: a golden named Hennessey. We were in love with the breed and have only owned goldens ever since. So we took him in with the intent to give him to my parents who at the time were, as they say, in between dogs. They didn't want the responsibility at the moment and we knew our fallback position was simply to adopt him.
He was a bit chubby when we got him, over 80 pounds, and we took him and his favorite chew rope to the car. Oh he was a rambunctious boy. From the moment he joined our family he asserted himself. He surprised us with his ingenuity, Isabeau would climb up the stairs and taunt him. Buddy had never known stairs, he had no idea what to do with them but he was smart enough to figure out they ended, somehow, above the ceiling of our kitchen. Isabeau would run up to the top of the stairs and hiss, and he would run around the corner into the kitchen one floor below her, stare at the ceiling, and bark. The expression on his face was always "What the…I should be looking at the cat's ass from down here!"
He was a master of counter surfing, until we attached a cooked chicken breast to a coffee can full of pennies. He never jumped up on the counter again.
We learned early on not to name a dog a common name. Call out "Sport" or "Buddy" at a dog park and see how many dogs you get. But he was our Buddy. And there was no way we were going to change his name.
He flew on an airplane. He swam in the pacific ocean. He loved the Pacific Northwest climate. Except the rain. When it was raining he hated the feeling of the drops hitting his head and he would stand outside, miserably flinching with each drop that hit his head. Oh and while he liked to run around in it, he hated going to the bathroom in the snow. I once had to shovel out a "poop spot" for him because every time he squatted in more than an inch of snow it would touch his butt and he would run away startled.
He scouted the bluffs of discovery bay and the Snoqualmie river valley. He chased an otter once a quarter mile out to sea. I loved everything about him so much I wrote a story about a version of him that lived on forever.
He loved his long gone companions Illusion, Isabeau and Hennessy and Remington Martin. He was our last tie to our life before we moved to Washington state from Texas. He survived a major stroke and recovered to give us another year and a half with him being happy and the king of the house.
He was a good dog. He was our Buddy.
Today I am heartbroken and crushed and all the things you feel when you have to say goodbye to your companion.
And yet I have that most wonderful of sad feelings that when he needed us we were there for him with as much selfless love as he had for us. We guarded against suffering. We ensured his happiness. We gave him brothers and sisters to play with when we were not home. Buddy was not taken from us too early. Just shy of 13 years is great for a Golden Retriever, especially one who had a major stroke a year and a half ago and couldn't even stand on his own!
In the end, we are our animal's stewards. They are our companions and we owe them a debt far greater than what they give us. It is our job to give them a life free from pain, full of food, love and happiness.
His eyes were bright. His fur smelled like stale popcorn and warm life.
I will be thankful for him forever, and miss him the rest of my days. Here he is, just after recovering from that stroke, enjoying the beach.
Like a boss.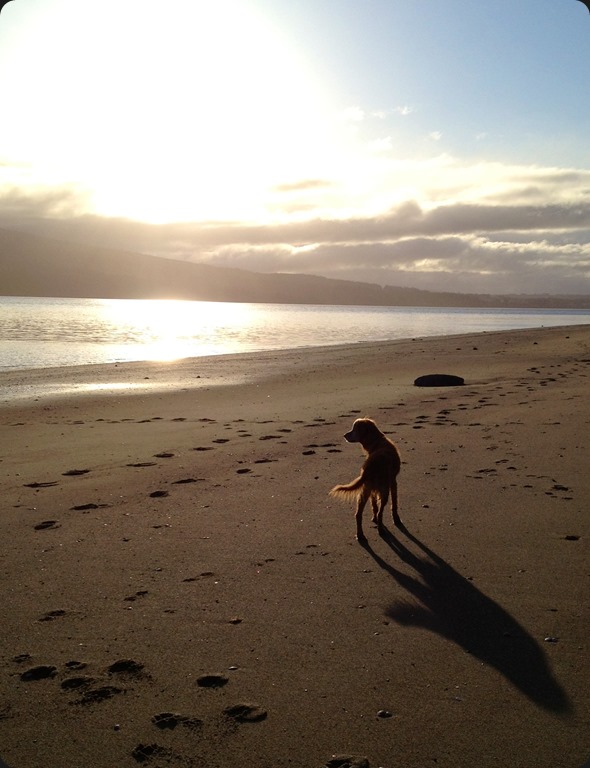 [EDIT: Rochelle and I are ok, and thank everyone so much for their thoughts and well wishes. We were prepared for this for a while, and we have Adia and her niece Eowyn to comfort us. If you'd like to help us out, please consider buying my work like my comedy album A Geekster's Paradise, or perhaps buying the science fiction short story in part inspired by Buddy called Buddy's Eye.]