So the past 72 hours have been, essentially, crazycakes awesome.  After visiting Austin for RTX (And discussing my draft with my editor, we're actually at the editing phase folks.  Book should be released SOON.  Can't wait for you to read it) I had one day of doin' stuff before I was back on a plane for San Diego Comic Con.
I'm not a huge fan of San Diego Comic Con to be honest.  I love San Diego more every time I visit, but SDCC really has become a place where Hollywood projects seem to have the most focus over, say, comics.  That's ok for most people, just not really my thing compared to the superior Emerald City Comic Con which has a much greater focus on the artists and writers.  Of course, I might just be biased. In fairness to SDCC though they did announce a new Neil Gaiman authored Sandman prequel. I don't think you can get more comic news than that, and its sort of a testament to the hollywood aspect that the news seemed completely out of place.
The main reason I try to go every year is w00tstock and because all my friends are in one place which makes it comically easy* to get to see people I love who are scattered all throughout the country. I got in Thursday in the early afternoon and the awesomeness started almost immediately. I'm so ridiculously lucky to have as a friend Marian Call, and she wanted me to join her onstage for her song Shark Week. Sound check was done early so her and I and The Doubleclicks (who I can't wait to perform with again also) headed out for beer.
San Diego is a fantastic walking town.  It's like a collision of the best parts of Austin, New Orleans, and San Francisco.  Lots of interesting people, good architecture, and plenty of sidewalk cafes and bars. Oh and good food too. Once you get away from the convention center and the touristy parts of the gas lamp, it's just a really pleasant place to move around. We settled on a spot not too far from the Balboa theater and chilled waiting for Scott Barkan to join us.
A word about Scott.  He often can be found playing guitar with Marian.  But what most people don't know is that he has an amazing solo album out.  Besides being a fun person to hang out with, Scott makes music I wish I could equal. 
W00tstock is always a crazy fun event. I swear the cast has more fun doing it than the audience does watching it.  We reprised my idea last year of finding someone with the worst seat in the house and borrowing their camera, then taking it backstage to take crazy photos. As soon as I have the link to the flickr I asked him to post I'll tweet and link it. I had brought one of the GAEMS Sentry units with me and there was a lot of geeking out over how you take a console experience portable and personal.
And then a wild Levar Burton appeared! For those who've gotten a chance to perform at a w00tstock every new one is like a reunion of a theatre troupe.  But when Levar Burton showed up and I got to have an actual conversation with him… Well I didn't lose my shit at least. He was the special guest to open the second act and sang the reading rainbow theme with Wil.  Which you can enjoy here.
I mean at one level he played Geordi of course.  But I grew up with reading rainbow as well. He's a very nice person and was gracious enough to take several photos for the fan camera.
Then Joss Whedon was disco dancing with me. No, really.  After w00tstock a few of us went over to Felicia Day's Geek and Sundry party, where I found myself dancing with her and the one we all bow down to. He has moves.
The very next day involved wandering the amazing show floor followed by 343's awesome Halo party where Halo4 was playable. The end of the evening revolved around the w00tstock SDCC party hosted by Adam Savage. Where there was a bittersweet geeking out.
I love the TV show Eureka.  And I'm upset that like too many wonderful shows it met an untimely end.  I don't normally do the "hey take a photo with me" thing with my friends but in this case I could not resist getting a photo with Salli Richardson and Debrah Farentino to express our sadness: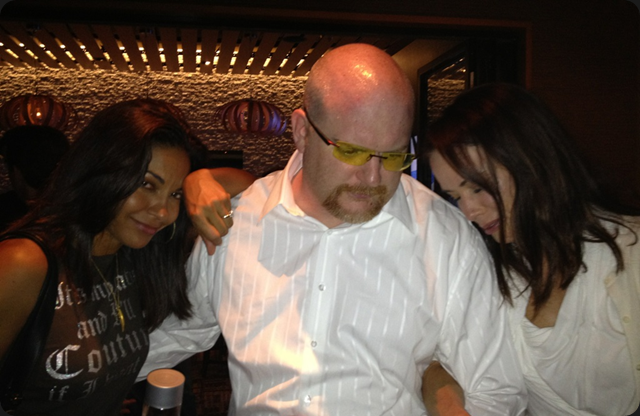 I know so many writers and actors on the show and I firmly believe they created a fun universe that I would love to see more of.
It's getting on to the point I have to board a plane so I must cut this short.  It's hard to quantify just how much fun I had and how much I miss getting to hang out with everyone all the time.  I'm super excited people love the new geek hardware I'm working on and I got to perform on stage with my favorite people.