Remington is on his third transfusion.  This is somewhat of a normal process in the healing for his disease.  His body has to be given red blood cells so that he can start producing platelets and white cells.  After each transfusion however, he has to wear a soft collar so that he won't lick his needle prick spots.  He…he doesn't like it.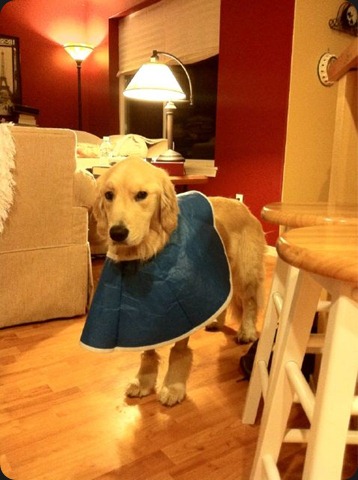 So far he has more platelets, still struggling on white blood cells.  But his quality of life is great, he's home and has energy.  He can play in the yard a little bit and sleeps with us.  He's still not out of the woods.  But he's turned some corners.  And should he not make it from some event Rochelle and I cannot control, I will certainly look at the steps we did as steps to keep his quality of life and not just keep him with us for our own reasons.
But he's a pretty strong little guy, and has endured this terrible situation without whining or whimpering.  I know I couldn't be that way.