Look I'm not going to bandy about people.  I've been busier than a one legged man doing the Price is Right timed "Put everything in the cart and get across the finish line" in a warehouse full of bionic legs.  But I've only been that busy because we're doing some UNPRECEDENTED stuff for PAX Prime coming up in just a few days.
Not only are we doing Halofest, to celebrate the 10th anniversary of THE THE THE TEH HALOZ*, not only will we have booth space showing off Gears of War 3, Kinect games, and other assorted awesomeness, but we've got panels galore and a special expo floor project we need YOU to be a part of.
This year at PAX we have an unprecedented** number of panels.  They are all uniformly set to be AWESOME and you should go to every one of them:
PANEL INFORMATION:
@XboxSupport: Customer Support in 140 Characters or Less
Wolfman Theatre
Friday 5:00pm – 6:00pm
What is the Elite Tweet Fleet? Come meet and chat with members of Microsoft's @XboxSupport Twitter handle about the joys and challenges of providing support for Xbox and Xbox LIVE in less than 140 characters. Members of the Tweet Fleet and Forums Support team will be on hand to answer questions and discuss helping customers through social media.

Major Nelson Radio: Live!
Unicorn Theatre
Friday 6:30pm – 7:30pm
Join Major Nelson, e, lollipop and Stepto as they record the podcast with you, the studio audience. Fun WILL be had. << [EDITOR'S NOTE: Seriously you do not want to miss this. I'm can't tell you what will happen but it will be something…something wonderful]

We Make Xbox and Xbox LIVE. Ask Us Anything
Unicorn Theatre
Saturday 5:00pm – 6:00pm
What does it take to work on Xbox? How do we determine what cool features to add? What was it like in the early days of creating Kinect? Who has the highest Gamerscore? Ask us anything. We mean it! Join an expert panel moderated by Xbox LIVE's own Larry "Major Nelson" Hryb as the people who work on creating the Xbox itself, as well as Xbox LIVE, take your questions.  Panel Experts are Eric "e" Neustadter, Stephen "Stepto" Toulouse, Ben Kilgore, Jerry Hook, and Laura "lollip0p" Massey.

Running Xbox LIVE

Unicorn Theatre
Sunday 4:30pm – 5:15pm
Ever wonder what it takes to run a world-wide entertainment service? Join members of the Xbox LIVE operations team as we walk you through the history and present of Xbox LIVE. Learn about the early days of the service, see what it's like to prepare for a major game launch, get a look inside how teams making the hardware and software have to take into account how it all comes together on Xbox LIVE, and how we take into account safety and enforcement. Hear some great stories over the past 9 years of the service. We promise we won't get too technical on you too! (PLEASE NOTE: This presentation will not include Q&A as we encourage you to join us for our separate open Q&A session. This session will end slightly early to allow for travel to the Omegathon/PAX closing at 5:30pm)
That's a lot of panels right?  I GNO.  I especially know since I am helping with most of them.  Which brings me to the next cool piece of news.
We have 50 Xbox and Xbox LIVE employees who have volunteered to work shifts each day wandering the show floor wearing these: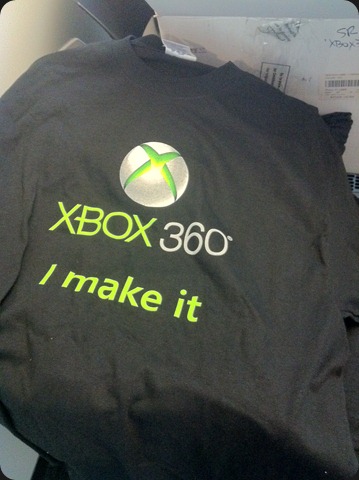 Front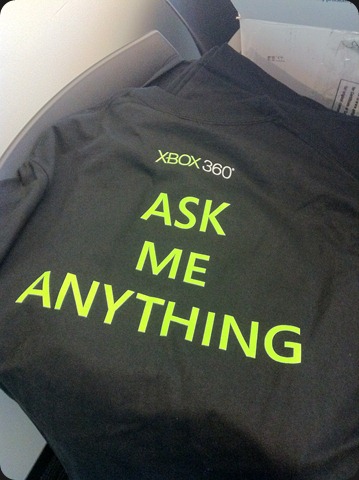 Back
Our goal?  For you to talk to us.  Now, of course, "Ask me anything" doesn't mean we can answer *everything* because of our confidentiality agreements.  And we might get our fair number of trolls.  But at PAX it is my belief that people in general not only obey Wheaton's Law but also are excellent to each other.  So we want to talk to you. If you see someone wearing this shirt, please feel free to go up and speak with them.  Tell them what you like or don't like on Xbox LIVE and Xbox.  Hate Kinect?  Love Kinect?  Tell us.  Hate Xbox LIVE?  Love Xbox LIVE?  Tell us.  We're gathering all the comments in order to take it back to Xbox HQ and learn to be even better for you guys.
And finally here is my official schedule for the weekend:
Friday:

Major Nelson Radio LIVE! 6:30-7:30
Halofest VIP party (short speaking segment around 8:30)

Saturday:

We make Xbox and Xbox LIVE, ask us anything!  5:00-6:00

Sunday:

Halofest panel, memories of Halo 11:30-12:30
Running Xbox LIVE 4:30-5:15
My unofficial schedule is that I will be attending the PAX keynote, Wil Wheaton's Awesome hour on Friday at 2:30, I'll be at the Saturday night concerts, and on the Expo floor and surrounding areas Sunday. Please stop me and say hello!
So that's it!  PAX Prime is almost here!
*God damnit Goddammit autocorrect.
**I love using unprecedented twice in a post.