I do this to myself way too much. I choose a bold new never-before-tried thing to cook when it's a big holiday and I have guests. Then I fret the entire time over whether or not I can pull it off.
Thankfully this worked out. Tonight we enjoyed large cuts of pretty much perfect Prime Rib. Here's how you do it:
Ingredients:
1 5-8 pound USDA Choice or Prime standing rib roast
Fresh pepper
Sea Salt
Olive oil
1/4 cup water
1/4 cup dry white wine
First, dry age the roast. When it's done it will look a lot like this: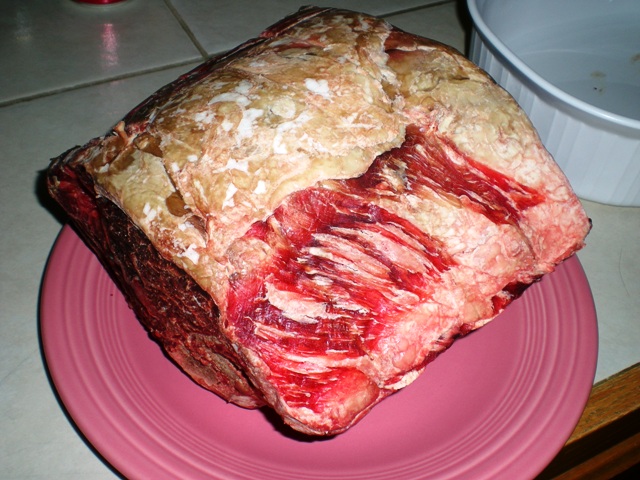 Once aged, trim off the leathery and any moldy parts. Take a small amount of olive oil and coat the entire roast. You can use extra light for this but I personally love the flavor of olive oil so I used regular. Rub the roast all over with sea salt and the fresh pepper.
In a small-enough-to-hold-the-roast roasting pan, combine the water and white wine and set the roast rib side down in the pan. Place in oven and roast for five hours @ 200 degrees or until the internal roast temperature is 120 degrees. Once the roast is at 120 degrees in the center, crank up the oven to 500 degrees for 15 minutes. Remove the roast. It should look something like this: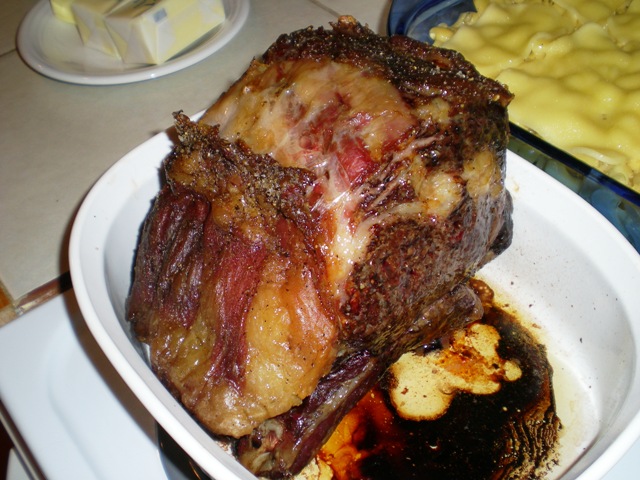 Let the roast sit for no less than 30 minutes. Carve it off the bones. Then carve out steaks. You should end up with a fantastic juicy cut of prime rib that, depending on the quality of meat you started with, is almost indistinguishable from an expensive chophouse cut of rib. Enjoy!